To overcome the High CPU problem in Windows 10 is indeed not easy. There are several factors that might cause CPU performance to be overloaded and burdensome processes in the system. One of them is the Windows Modules Installer Worker which consumes very large CPU power. The Windows Module Installer Worker is different from Windows Update. Where this module works to install the updated data that you have downloaded.
This is common, and will definitely continue to repeat itself due to the fact, this is the work of Windows Update. On this occasion, we will discuss how to repair Windows modules for the high CPU worker installer in Windows 10 by disabling Windows Modules Installer Worker and making the update process manual. Ohiya, if you want to turn off all Windows updates, please read how to turn off Windows 10 updates forever here.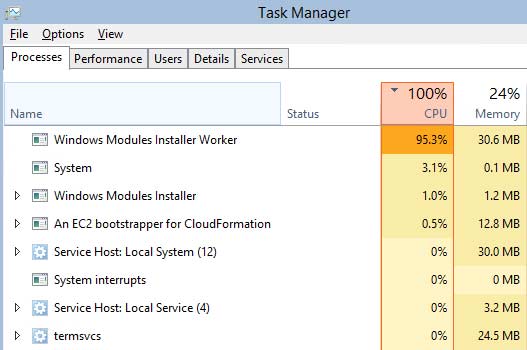 How to Overcome the High CPU By Windows Modules Installer Worker
As you can see in the Task Manager image above when Windows 10 High CPU is caused by Windows Modules Installer Worker. When this process occurs, your computer will immediately slow down. All activities can be stopped and very disturbing when working on something critical. To fix this, follow this method:
Open the RUN dialog (Windows + R)

Type services.msc

See the right panel, look for the Windows Update service

Right-click properties, Stop the process first

Change startup type from Automatic to Manual

If so, then you will find a process called Windows Modules Installer

right click> properties, Stop and change the startup type to Manual

When finished, open the Task Manager

Look for the Windows Modules Installer Worker process that takes up high CPUs

End the Task process

Restart the computer
After this process is complete, Windows Modules Installer Worker will never again interfere with your CPU performance. But keep in mind, the Windows Update Installation, in this case, will not run automatically. Although the update file is still downloaded, the file will only remain silent on the computer. You can check the Windows Update menu in Windows 10 and see if there is an installation that can be processed immediately. For more detailed information, please enter the official
Microsoft forum
regarding Windows Modules Installer Worker.
Maybe useful!